ARNY AVD-709M
7" TFT monitor, budget video doorphone with 2 panels + 1 camera, PAL/NTSC, built-in memory block, panel lock, up to 4 AVD-410 / 709/710 monitors in parallel, additional video output to the monitor, compact design, white / black, 200x130x22 mm
ARNY AVD-709M video doorphone – is an updated version of thea href="http://alarm24.sk/shop/product/arny-avd-709m">ARNY AVD-709 modelwith a built-in memory block. The device makes it possible to see a calling visitor on the screen, and also take and save a visitor's photo for later viewing. As to the rest, the doorphone has the same set of functions that provide usability and a high level of security.
Key parameters of the ARNY AVD-709M video doorphone
color LCD display with a diagonal of 7"
hands-free speakerphone system
128 МB of internal memory (more than 100 photos)
connection of 1 or 2 call panels
a video camera connector
output for the monitor (TV)
possibility of parallel connection of up to 4 analogue video doorphones with activation of intercom communication
built-in power supply unit.
Work features of ARDY AVD-709M video doorphone
ARNY AVD-709M doorphone– is simple and convenient in use. Basic operations start when the guest presses the call button on the call panel. A signal is heard from the internal monitor, and the video from the active camera appears on the display. If the host is at home, he/she can talk to the visitor, open the door or just take a photo of the visitor.
If the automatic shooting function is activated, the guest will be photographed during the call. Returning home, the host will be able to view the saved images and find out who came in his/her absence.
A set of connectors allows you to make a multi-user system with additional panels, video cameras and monitors on the basis of ARNY AVD-709M video doorphone. Such multi-user system will help you to see the territory in front of the entrance from another angle, switch between video cameras, and transfer the call to the monitor in the other room. In addition, the parallel-connected doorphones give the possibility to communicate between internal rooms.
The main operations are carried out with the help of the front mechanical buttons, and the operation with the menu, setting of the screen parameters and manual shooting are carried out by means of side wheels.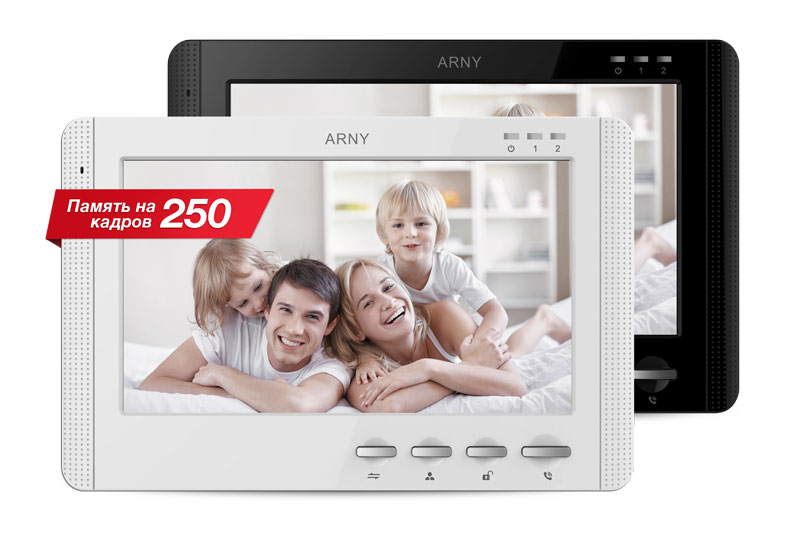 Number of plug-in panels / cameras
2+1
GUI (graphical user interface)
no