ARNY AVD-709
7" TFT monitor, budget video doorphone with 2 panels + 1 camera, PAL/NTSC, panel lock, up to 4 AVD-410/709/710 monitors in parallel, additional video output to the monitor, compact design, white / black, 200x130x22 mm
ARNY AVD-709 video doorphone – is a new budget model, which has all the necessary functionality to ensure a high level of security and ease of use. The device allows the user not only to see the calling visitor, but also open the door just with a press of a button, if an electromechanical or electromagnetic lock is installed.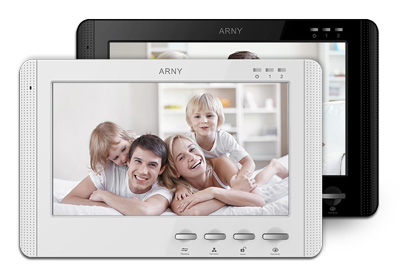 Features of ARNY AVD-709 video doorphone:
color screen with a diagonal of 7"
hands-free system
the capability to connect 2 call panels
input for video camera connection
output for additional monitor
built-in power supply
the capability to combine up to 4 doorphones into the system.
ARNY AVD-709 operating principle
The work with the ARDY AVD-709 video doorphone is easy and convenient. When a visitor presses the call button on the call panel, a signal is sent from the monitor and an image from the active camera appears on the screen. At this time, the host, if he is in the room, can start a conversation or open the door right away.
If a multi-user system with additional monitors, panels, video cameras is installed, there is even more room for action. You can switch to another video camera in order to look at the guest from a different angle, or transfer the call to the device in an adjacent room.
Such an extended system provides additional opportunities apart from access control. It is possible to communicate between doorphones in intercom mode; to observe what is happening around via several cameras at any time.
Controlling the basic functions of the device is performed by means of front mechanical buttons, and parameters setting is done with the help –side wheels.
When connecting internal CCTV cameras with a current consumption of more than 200 mA or external cameras, one must use an external power supply unit.
Number of plug-in panels / cameras
2+1
GUI (graphical user interface)
no