ARNY AVD-410M
4" TFT monitor, 250 shots memory, a budget video doorphone with 2 panels + 1 camera, PAL / NTSC, panel lock, up to 4 AVD-410/709/710 monitors in parallel, additional video output, compact design , white / black, 170x120x20 mm
ARNY AVD-410M video doorphone – is an updated version of the popular AVD-410 budget model. The new modern body design and additional performance capabilities make the device even more convenient in use. At the same time, all the existing advantages are preserved, and the model remains one of the best in its segment in terms of functionality and price.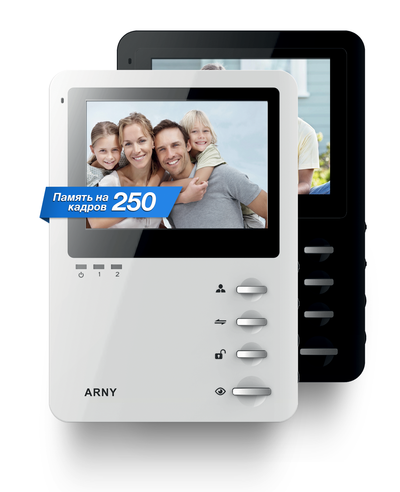 Basic parameters of ARNY AVD-410M video doorphone
color 4"LCD display
hands-free system
internal memory for 250 photos
four front buttons for basic functions
side buttons for adjusting screen and sound
the capability to connect two video panels
connectors for additional video camera and monitor
capability to connect up to 4 video doorphones.
Work features of ARNY AVD-410M
If a visitor wants to enter , he/she should press the button on one of the call panels. These can be bothARNY modelsand parameter-compatible devices from other manufacturers.
During a call, the audio signal is heard from both the panel and the internal monitor. The video from the camera of the active panel is displayed on the doorphone screen and the owner has the opportunity to talk with the guest or open the door right away. After pressing the button to open the lock, the monitor remains active for another 20 seconds, it allows to make sure that the visitor has entered.
In addition, the image is automatically saved during the call. If necessary, you can take additional shots during conversation or in the monitoring mode by the Photo pressing « ». Monitoring is used to observe the space in front of the installed cameras. By pressing the corresponding button, you can see what is happening on the adjacent territory at any time.
Combining several video doorphones into one system allows you to redirect calls from one device to another and use the intercom function.
If you connect internal CCTV cameras with a current consumption of more than 200 mA or external cameras, you must use an external power supply unit.
Number of plug-in panels / cameras
2+1
GUI (graphical user interface)
no